The power of the penny
In this, the 40th year of our Hospice, we really do need your support now more than ever before.
Every single penny helps us make a difference, so why not collect your spare change in one of our 40th change boxes to help support us in our 40th year and beyond with these simple steps;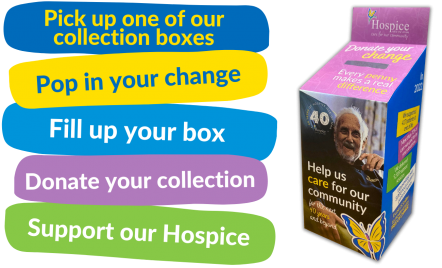 Each box helps raise awareness of our work as well as generating much-needed funds. We've already seen our 40th change boxes popping up all over the Island, could you take one to stand on your counter, bar or desk-top too?
Get your collection box by visiting any of our Hospice Shops, Hospice at Strang or select IOM Post Offices*
Alternatively order your collection box online now.
Paying in your pennies
Of course you may be collecting more than just pennies. Coppers, silvers and notes are all greatly appreciated, and paying in those "pennies" couldn't be easier.
Pay Online
Complete the form below to send pay your donation in online
Cash or Cheque
To pay in your cash, please visit our fundraising team at Hospice Strang, or alternatively you can send a cheque made payable to Hospice Isle of Man to;
Fundraising,
Hospice Isle of Man,
Strang,
IM4 4RP
Thank you for supporting us in our 40th year by taking, filling and donating with our 40th change boxes.
*Jurby, Andreas, Onchan, Peel, Port Erin, Windsor Road.