Sinead Astill - Patient Relative
"Sadly, the time came where Chris needed end of life care and Hospice made sure he passed with dignity, respect and comfort."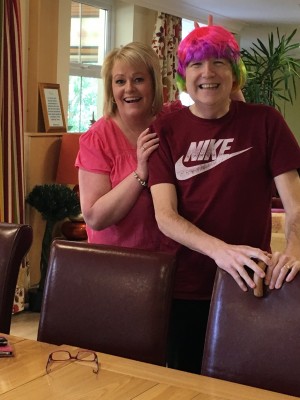 "Hospice wasn't somewhere we'd thought about until my husband Chris was diagnosed with incurable cancer. Hospice not only provided Chris with the best care throughout his illness but also looked after the whole family. We had so much pleasure from the drop in sessions where we could meet other people in similar situations, enjoy the arts & crafts, relaxation therapies, beautiful tranquil gardens and support each other emotionally, often with many laughs and much happiness along the way - his picture with Carol shows this!
Chris had numerous in-patient visits at Hospice where the staff gave him the best possible attention and after a tweak in medications we were back home to live life and make precious memories.
Pam, who was Chris' nurse while he was at home gave us both endless support, advice and ensured we had everything Chris needed.
Sadly, the time came where Chris needed end of life care and Hospice made sure he passed with dignity, respect and comfort.
My family will never be able to thank each and every member of staff that helped us all the way through enough. Hospice is more than a place, the dedication and kindness of the staff is truly inspirational and are always there not only for the patient, but the whole family at a time when you need them most. A huge Thank You, Well done and of course Happy 40th Birthday! "