Our Palliative Care Academy is where we bring together our goal of 'Share, Learn & Educate'.
Here at the Palliative Care Academy we are passionate about sharing our expertise in palliative and end of life care. Together with our partners we deliver, and host, a range of training programmes and events for professionals, carers, community partners and our great volunteers to build their knowledge, skills and confidence in providing palliative and end of life care. This is what we call hospice influenced care.
You will find details of our clinical and professional courses that are running this year here on the website.
All of the training we provide will be founded on our culture of 'what matters to me':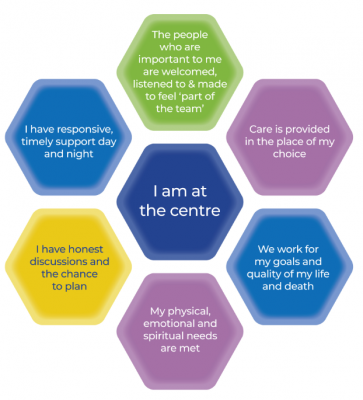 Island Plan for Palliative and End of Life Care
The Palliative Care Academy is a fundamental part of our contribution to the Island Plan for Palliative & End of Life Care,
'From Vision to Reality'. It is where we will work with our partners on 'Delivering our Workforce Together'.
We look forward to welcoming you to the Palliative Care Academy.
Clinical Placements & Work Experience
If you would like to know more about our clinical placements or work experience opportunities please click here.
Courses
We offer a range of courses, sharing our expertise in palliative and end of life care with a range of healthcare professions across the Isle of Man.
To learn more about each course click here
To register for listed courses please complete our Course Application Form here
Bespoke programmes
We can also deliver bespoke training for organisations, schools and businesses to help you be proactive in supporting people dealing with life limiting illness or who have been recently bereaved. Just get in touch to help us understand how we can help.
Project Echo

®

- Moving knowledge not people

One of our transformation projects that is currently underway is Project Echo®, a telementoring model developed by the School of Medicine at the University of New Mexico (UNM).

Using multi-point video-conferencing technology, participants share evidence-based, best practice guidance, and case-based learning with the aim of developing clinicians' confidence and capacity in safely and effectively treating common, chronic and complex diseases.

Click here to find out more about how your organisation might benefit from the use of Project Echo®