We are committed to providing care to anyone on the Island living with a condition that is terminal or life limiting.
2017 referral statistics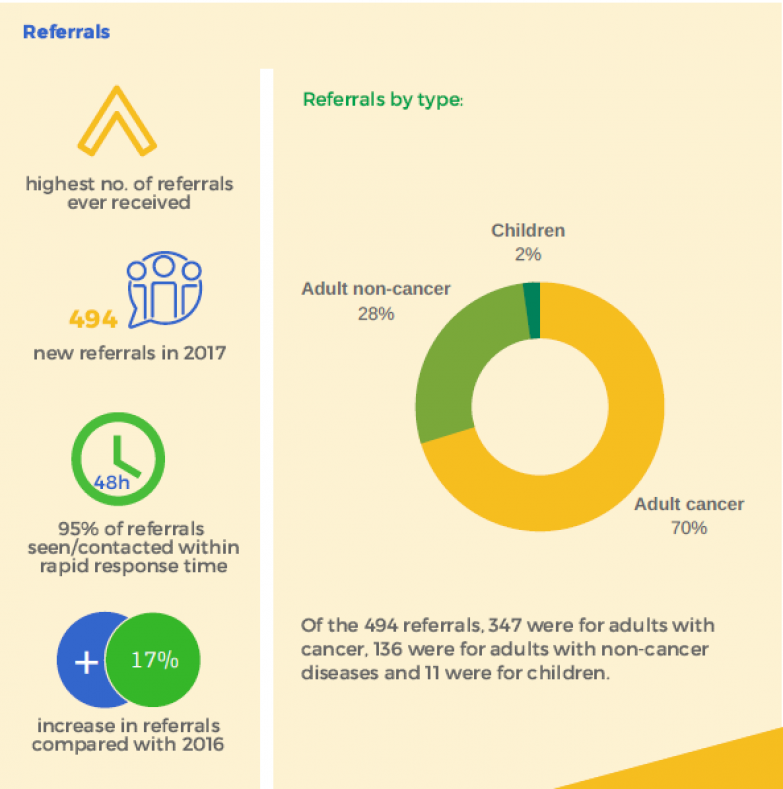 Referral criteria
For access to services a person should fulfil the three criteria below:
The patient has specialist palliative care needs
The patient has active and progressive disease
The needs of the patient can be met by the services provided by Hospice and that Hospice is the most appropriate agency to provide these services
Who can refer?
If you are any of the following then you can make a referral:
General Practitioner
Hospital Consultant /Medical team
Clinical Nurse Specialist includes OPAS Nurses
Senior Allied Health Professionals
District Nursing Team Leaders/ Long Term Conditions Co-ordinators
How to refer
You can make a referral by completing a referral form.
All referrals for lymphoedema management must be completed on the cancer related lymphoedema referral form.
We will endeavour to respond to the referrer as soon as possible. This may include advice to the referrer and/or the offer of an assessment visit to the patient if appropriate.
Discharge
Discharge from the service follows negotiation with the patient, patient's family, and other professional carers.
To read our full discharge policy, click here.