Strengthening Support Systems
'Sit and Chat Benches' are one of our initiatives most visible projects: across the Island, a number of benches will be distinctively decorated and easily identifiable as places where people can do just that – sit and chat. It is hoped that creating community connections, and strengthening support systems will lead to a decrease in loneliness and isolation; the benches can be used by anyone, of any age, and will promote simple acts of kindness that could make a difference to people who might be living alone and needing human contact.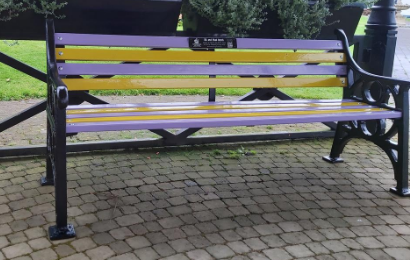 Some people may go days or even weeks without the simplest of human contact, so the 'Sit and Chat Benches' seek to break down that social barrier and allow us the opportunity to all say 'Hello'. Anyone who is feeling isolated or disconnected is encouraged to sit on the benches and strike up a conversation with a friendly stranger.
So if you are looking for a friendly conversation and don't mind someone stopping to say hello, we welcome you to use our Benches, and help create a compassionate community for our Island.
Sit and Chat Bench Locations
You can find our Sit and Chat Benches around the island, and we are always open to discussing with commissioners, land owners and any other relevant body who can support and host our Sit and Chat Bench initiative.
We have very generously been donated additional Sit and Chat Benches;
Standard Bank: Cooil NY Chibber (outside the community hall) – Andreas
IOM Co-op: Outside Crosby Co-Op
Manx Telecom: Thie Slieau Whallian
Keystone law: Heritage Trail - Adjacent to Moddey Dhoo
Think Manx: Heritage trail - Overlooking river Neb
Microgaming: Heritage Trail - Between footpath and river Neb
Poker Stars: Heritage Trail - adjacent to Tall Mann of Ballachurry carving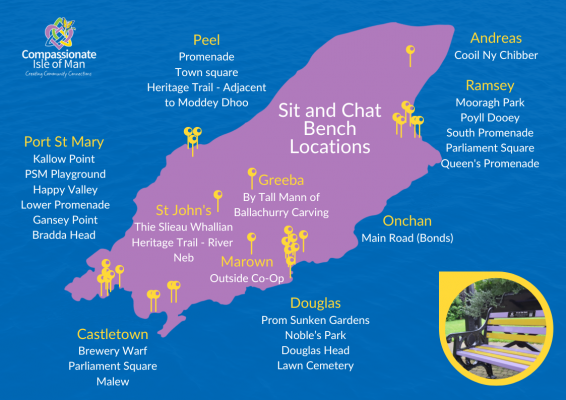 Of course our Sit and Chat Benches offer a platform to socialise, however if you require support in anyway there are many local charities and support services across our Island which you can contact. View Charity and Service Support List.
Contact the Compassionate Isle of Man team:
Call: 01624 647498