Staying Steady
We take the prevention of falls very seriously, and have found some useful videos which you can do at home to help you improve and manage your strength and balance, helping reduce your risk or fear of a fall.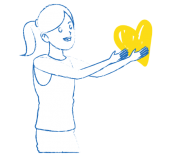 This "Falls prevention Fuel Tank" video explains how to reduce your risk of falling;
"Stay active at home" – This video explains some strength and balance exercises for older adults to follow.
Please only attempt the exercises in these videos if you feel you can do them safely.
There is also this fantastic "Get up and go guide" we have found. Why not take a look at some of the useful information and exercises you can do at home to build your strength, balance and confidence.