What is the Scholl Academic Centre?
We launched the Scholl Academic Centre in March 2019, with three main areas of focus:
Education, Innovation and Research.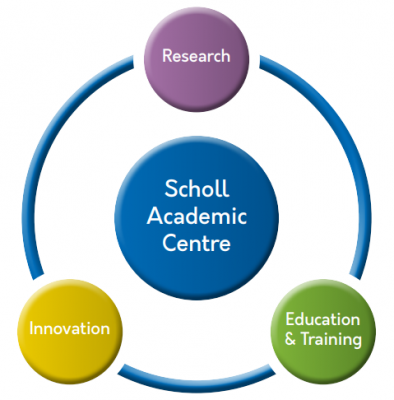 Education
Education and training have always been at the heart of what we do here at Hospice. It's so important to us that we have built it into our Hospice Strategy.
All of our education and training is co-ordinated and delivered by our Palliative Care Academy, which provides evidence-based training on a wide range of topics to build confidence and competence of those people who are supporting patients, families and carers who have a life-limiting condition. You will find full course outlines and booking details here on our website.
Innovation
Innovation is a key part of everything we do. At its foundation it means we continually improve the care we provide to individuals and those who matter to them.
During 2020 COVID-19 has fast-tracked some of our innovation plans. We call this 'Forced Innovation'. However, more than this, we have aspirations to be at the forefront of clinical innovation.
Research
Everything the Academic Research Team does is informed by and/or informs Hospice care. The aim of academic research is to find the best ways for Hospice Isle of Man to provide the right care at the right time in the right place for people needing palliative and end of life care on the Isle of Man.
Research is used to improve care in a number of ways, and you can read more about our team, their projects and ambitions here on our website.