On May 24th our 14 week public art trail 'Wallabies Gone Wild', will launch. It will be something that supporters both old and new will be able to participate in and enjoy.
Our trail will offer hours of endless fun, the free mass-participation event will encourage participants to spend time with their friends and families, visit parts of the Island they may never have been to before, and engage with art and culture in a new and exciting way.
Over the last six months we have been working closely with many of the sculpture sponsors, artists, community groups and schools involved and we are really looking forward to the wider community being able to experience the positive outcomes of this unique and exciting collaboration.
The trail will be island wide and features work from local and international artists as well as local community groups and schools.
How to take part
For over 12 months, behind closed doors, an Island-wide invasion has been planned by Hospice Isle of Man. One by one businesses, artists, schools and community groups were let in on the secret and now it's your turn...
Grab a map
Your challenge:
Find our 26 large wallaby sculptures located in outdoor locations around the Island, each sponsored by a local business and beautifully designed by local
or international artists.
Find our 38 small wallababy sculptures located in public buildings across the Island, each designed and fundraised by our very talented local schools and community groups.
They will be available once the trail goes live from each of the Hospice Shops!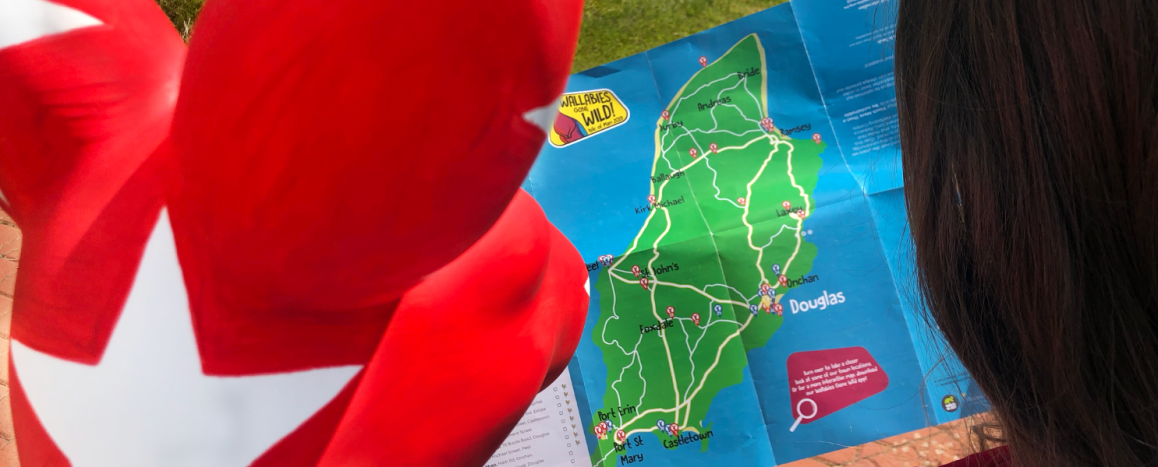 Download the app
For a more interactive experience you can download our Wallabies Gone Wild app.
Use the app map to track down all of the wallabies and wallababies. Enter the 4-digit code at each location to unlock each design and release special offers, competitions and rewards from wallaby sponsors.
You can also use the app to upload your pictures to social media.