The hugely successful Hospice Isle of Man Wallabies Gone Wild campaign earlier this year stole the hearts and minds of the local community and visitors alike. The art campaign will be long-remembered for its invasion of a troupe of colourful and uniquely designed wallabies taking up their homes at locations dotted throughout the Island.
After a nail-biting auction in September, 29 members of the troupe found new families in the Isle of Man and across the world and began their journeys to their new homes in far flung places. All except one, Shoal.
The magnificent Shoal was designed by talented local artist, Kate Summerville, who herself has spent 8 years living and working on the south coast of New South Wales in Australia, and Shoal's design is inspired by the Manx fishing industry.
Unfortunately, through no fault of his own, Shoal finds himself looking for a new family and a forever-home in time for Christmas. Can you, or someone you know, help and give Shoal a loving home?
Adoption forms and bidding are already being completed via local auctioneers, Chrystals. We're really hoping that a loving family can be found as soon as possible because a Wallaby isn't just for Christmas! All proceeds from Shoal's adoption provides vital funds for Hospice Isle of Man to continue offering its services to patients and their families – supporting patients to live their way, at home, to the end of their lives.
Bidding closes 20 December 2019, and his search can be followed on Hospice Isle of Man's social media.
Visit auction or click image below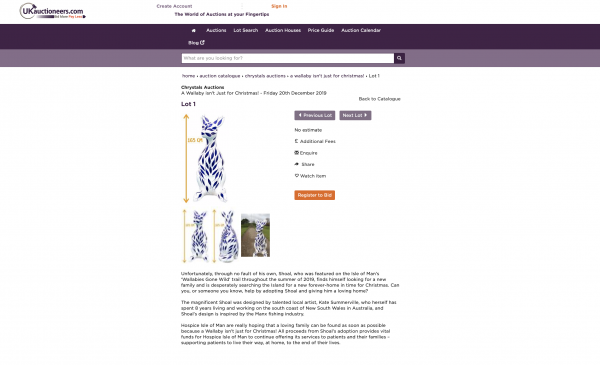 Back to News