Get ready to go wild for wallabies!
On Wednesday night I was delighted to be joined by His Excellency the Lieutenant Governor, the Deputy Mayor and so many of you from our schools, businesses and creative industries at the launch of our exciting new project 'Wallabies Gone Wild'.
For 35 years Hospice Isle of Man has been an integral part of our Island's community and in this special year I invite and encourage you to collaborate with us on what is set to be our most exciting and ambitious project to-date.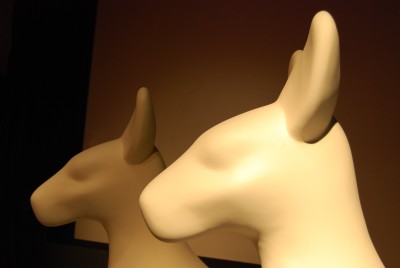 In short, Wallabies Gone Wild is a mass participation art event that will be held on the Island over 12 weeks from May to September 2019 when the Island will be brought to life by a mob of beautifully designed wallaby sculptures, painted by local artists. But it is much more than that.
Our focus at Hospice over the next five years is to respond to peoples' wishes and support even more people to have their care in community settings. This project will provide the perfect opportunity for Hospice to work collaboratively in our community, to promote compassion and raise awareness of our services. This in turn will generate funds ensuring that we continue to be there for you when you need us.
The project has many exciting elements, and too many opportunities to list here, but our main objective is to work in partnership with as many of you as we can over the next 12 months and here's how:
Working with businesses to encourage full participation and help us raise as much income as possible to support our patients and their families, there is a wide range of sponsorship, partnership and supporter opportunities available. Each level offers a variety of benefits to suit your business, marketing and corporate social responsibility objectives including a unique opportunity for brand exposure, staff engagement and sales promotions.
Working with schools to showcase the creativity of your students and create a treasured legacy of your involvement for future generations. Our education packs are linked to the national curriculum and puts creativity at the heart of a programme of study, designed to complement key stage specific teaching for numerous subjects. Central to the pack is our Compassionate Communities Programme, which will include resources and training opportunities that will enable teachers and school staff to address issues surrounding bereavement in a sensitive and age appropriate way. We will also help develop citizenship and key life skills such as resilience and compassion whilst also providing opportunities for students, teachers and parents to get directly involved in some of our community-centred projects.
Working with artists to showcase their talents and promote the importance of creativity and its value socially, culturally and economically. The event will introduce new businesses to the arts and will inject additional funds into the creative sector. it will also create new commissions and allow artists to engage with new audiences.

On a personal level, I am looking forward to getting to know more of you as we work together to deliver what is set to be a really exciting and rewarding project.
If you would like to know more about how you can 'go wild' and get involved in this project, please call our marketing team on 647434 or email wallabies@hospice.org.im
or download one of our exciting information packs below
Artist Information Pack | Business Information Pack | Schools Information Pack
Back to News