This week it's Dying Matters Awareness Week and to honour it and encourage our community to get talking about death, dying, grief and plans for the end of life, we wanted to mention a very beautiful lady and someone dear to everyone at Hospice and Rebecca House; Debbie Pitts.
Some may recognise Debbie, she worked at Rebecca House for over 12 years and was the Mayor of Douglas.
To honour the legacy that has been left behind by Debbie, a room in the newly refurbished Rebecca House has been aptly named Debbie's Pittstop. Last month, we were joined by Debbie's closest family and friends for the official opening of the room.
Debbie's Pittstop will be used as a private space for discussions with families and carers to allow handover of information/changes in care needs to offer support if a family expressed they wish to discuss any concerns they are currently facing when they attend for respite care. The room will also be used for planned meetings with families to complete assessments and for professionals meetings.
What an inspirational and incredible lady who is missed so dearly every single day.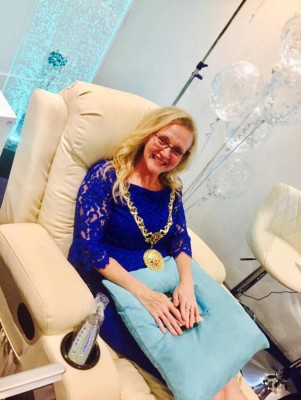 Back to News