Three cheers for Dylan!

Saturday 25th July 2020 - An incredible morning of determination, emotion, compassion and true inspiration saw eight year old Dylan Walton; whose Cerebral Palsy affects his ability to walk, climb to new heights by conquering the Isle of Man's only mountain, Snaefell.
The 620 metre summit is no easy feat, but Dylan, who was inspired to give back to Rebecca House Children's Hospice where he has attended for specialist respite support since 2013, soldiered on and went that extra mile to raise funds for their new, safe and fully-inclusive playground.
Dylan's Day began with a surprise escort to take him to his starting point with Chris Kilford, one of Hospice Isle of Man's Registered Nurses picking him up in style on his tremendous touring trike, which really revved up Dylan's excitement for the day!

Dylan began his challenge at the Island's National Sports Centre race track, where he has been consistently training for the past few weeks to build his strength and work on his balance whilst unsupported. Off to a racing start, Dylan completing the first 414m entirely unaided approximately 13 minutes, which filled him with enthusiasm ahead of his ascent.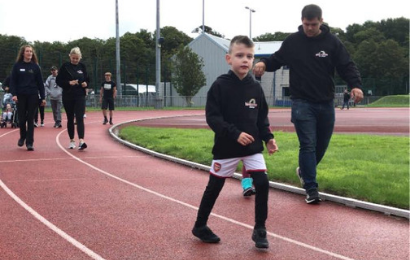 Greeted by his second escort of the day, The Isle of Man Constabulary Roads Policing Unit recruited Dylan as an honorary colleague as they gave him his own hat to wear and drove him up the mountain in the Police Car to begin the second part of his challenge.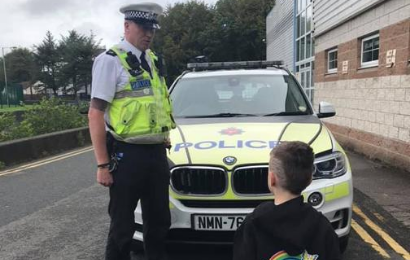 Now fully kitted out in hiking boots, warm layers and his Dylan's Day hoodie, Dylan was ready to take on the mountainous challenge which stood before him full of motivation to power each and every step.
Faced with many obstacles along the way including uneven and rocky terrain, boggy ground and steep uphill paths, Dylan began the uphill climb surrounded by plenty of support and encouragement from his family, friends, Hospice & Rebecca House representatives, national media, his Police Escort and members of the Civil Defence, who all rallied behind Dylan to help him step-by-step to safely reach the top.
Delighted to have reached the peak, Dylan was greeted by a tumultuous cheer and a surprise trophy inscribed with his success, truly signifying his remarkable achievement and act as a keep-sake for years to come.
Back down the mountain with help from the Civil Defence team, Dylan and his many supporters congregated in the Betty Pie Co.'s soon-to-open establishment to celebrate the victory with tea, coffee and homemade brownies, before heading off to the iCue Academy's Family Fun Day held in support of Dylan's Day too.
To top off an incredible challenge, Dylan has received fantastic coverage from both local and national media including newspapers, radio and even making it on the TV!
A massive thanks must be said to everybody who has supported Dylan along the way, from making the challenge happen to donating spare change and generous funds in aid of a new Rebecca House Playground, helping make a life-changing difference so Dylan and other vulnerable children of our Island can play in a brightly-coloured, sensory-filled, fun, safe and supportive space, and enjoy themselves free from restrictions.
Well done Dylan for your remarkable achievements. We are truly overwhelmed by your generosity and sheer determination to overcome your challenges, and would like to thank you for supporting a cause which means so much to you.

Dylan's Day has (at the time of writing) so far raised £20,000 for a new Rebecca House Playground and we are so thrilled to announce the playground will be suitably named "Dylan's Playground" in honour of his incredible achievement!
If you would like to help support Dylan you can donate by clicking below.
Back to News