The window in our Strand Street shop is looking incredible!
A few months ago we approached University College Isle of Man to explore the possibility of working in collaboration with them, to raise the importance of sustainability and clothing, to which they excitedly agreed to.
Over the coming months we will be giving a window space to each of the Art and Design UCM students who took part in this exciting collaboration - we are absolutely blown away with what they created!

First up is Ashley Christian.
Read Ashley's Bio below:
"I spent the past year studying on the Art and Design Foundation course at UCM. It was a very rewarding year, allowing me to explore all aspects of art and design. This lead to me choosing fashion as my speciality. For my final project at college I created a couture fashion piece inspired by architecture, which is a constant source of inspiration throughout all of my past work. I used a wide range of materials to create my structural garment from fabric to acrylic sheets and nuts and bolts. During my time on the course I uncovered a strong awareness for sustainability and therefore, where possible, I collected secondhand clothing from Hospice to be upcycled and patched together to create my garment. My aim was to transform the preloved clothing into something luxurious and unrecognisable as it's original form. I chose to display my work through a photoshoot taken in an urban location in Douglas, highlighting the unity of femininity and hard structures. My time at UCM gave me so many opportunities and I'm excited to see what is in store for me next as I continue my creative journey in September at Middlesex University to study Fashion Communication and Styling."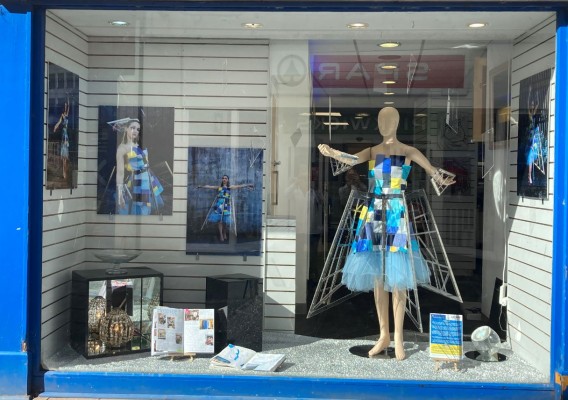 Back to News