Dementia is growing global health issue. Not only does it have consequences for post-diagnosis care and management of dementia and age-related cognitive decline, but it is now being recognised that support is also required for the caregivers to improve the quality of life for both parties.
Hospice Isle of Man's Scholl Academic Centre is looking for participants for a new clinical pilot study which will investigate the use of a memory app which aims to improve the quality of life of people living with dementia and their carers. The study is seeking 30 participants who are 65 and over and have a diagnosis of mild or moderate dementia. The participants will be asked to use the Memory Lane Game game-based app that provides simple, dementia-friendly memory and distraction activities. During the study, the participants will be asked to use the app at least once a week and together with their carer will have four visits from researchers over a period of 6 months. It is hoped that the study will help to provide evidence of an improved quality of life for both the dementia patient and their carer.
The study is being run by Hospice Isle of Man's Scholl Academic Centre and has been approved by the Isle of Man Research Ethics Committee (IOMREC) and funded by Memory Lane Games. Memory Lane Games the Company behind the development of the App is based on the Isle of Man, and the App is gaining international recognition as early users say it really does have the ability to reignite memories.
Anne Mills, CEO of Hospice Isle of Man and Principal Investigator on the study said that "We are delighted to be leading this study so that a thorough academic and independent trial of this technology, can determine if this type of intervention could help to improve wellbeing of patients and their carers with dementia. Our strategy at Hospice is to reach more people earlier who need our support, so our Scholl Academic Research team is using this opportunity to review if health technology can make an impact. We are very proud that Memory Lane Games has been developed right here on the island and we are now able to independently recruit for individuals who can provide feedback on the app and bring us one step closer to improving the quality of life of others living with dementia"
Memory Lane Games CEO, Bruce Elliott commented that "From personal experience and anecdotal feedback, we've seen the power of reminiscience and distraction activities in helping support those affected by dementia. We see the unmet need for critical day to day support for all those affected by dementia and we're incredibly proud to be working with Hospice Isle of Man to lead the way with new research that brings us one step closer to improving the quality of life for all those touched by cognitive decline."
If you are interested in participating, then please contact Rachel Convery Clinical Research Nurse, Scholl Academic Centre on 01624 647424 or research@hospice.org.im.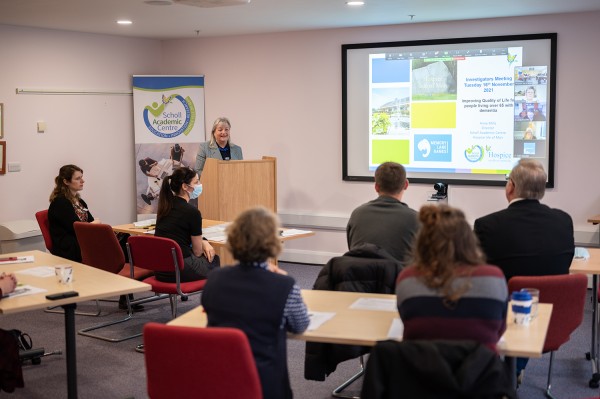 Back to News