It was with heavy hearts and huge sadness that we learnt of the passing of our dear friend and supporter of Hospice and Rebecca House, Mr Trevor Hemmings.

We feel especially privileged and honoured that we spent the afternoon with Mr Hemmings just two weeks ago when he visited Hospice. This time it was to formally open Dylan's playground, the children's play area at Rebecca House, to which he kindly contributed. We feel very fortunate indeed that we were able to share this special time and express our sincere thanks to him for everything he has done for us. His generosity to Hospice and Rebecca House during recent years will benefit and touch many lives for years to come.

At Mr Hemmings' request, the opening of the playground was a quiet affair; just a chance for him to spend some time with Dylan Walton, one of our Hospice Young Ambassadors, whom he greatly admired for his determination to overcome his disability and climb Snaefell in 2020.

We were in awe of his passion for helping others, for children, his football and of course his beloved horses. His visit to Hospice was full of positivity and laughter. At 86 he had worldly wisdom and incredible life experiences to share, but shining through was his down to earth manner, his keen interest in others, his kind, caring, generous spirit and how he remained young at heart.

We will always remember Mr Hemmings with great fondness and with a smile.

Our love and sincerest condolences to Mr Hemmings' family and friends who are in our thoughts at this time.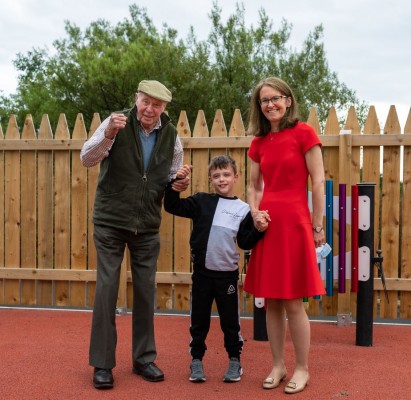 Back to News