Hospice Isle of Man welcomed Directors from Tevir Group on Friday 12 June for a first look of the major refurbishment works underway at the charity's Strang unit. Hospice's Enhancing the Healing Environment project commenced in June 2019 and was made possible by the generous support of Tevir Group. Work on the project was halted early in 2020 due to the COVID-19 pandemic but recommenced in mid-April.

Anne Mills, Chief Executive at Hospice Isle of Man said of the visit:
"We were delighted to be able to finally welcome members of the Tevir Group and show them around the refurbishment works, as a first look at the fantastic progress our construction teams are making with our fit-out despite lockdown. Prior to March, significant progress had been made around planning our return 'home' to Hospice at Strang from Southlands in Port Erin, which unfortunately had been delayed due to the pandemic. Working in partnership with the Tevir Group has been a fantastic boost for Hospice as we have been able to enhance our facilities for patients and families beyond our expectations. Hospice patients will have much enhanced facilities that are fit for purpose and Rebecca House will be such a special place for children and families. The opportunity to offer care to young people transitioning to adult services will really add value."
Tevir Group's support for Hospice Isle of Man's capital projects programme has enabled the charity to make significant changes over a 12-month period rather than over a planned five-year period, so as to meet current and future regulatory requirements as well as the future needs of patients.

Ciaran Doherty, Managing Director, Tevir Group, said:
"We were very impressed by the progress that has been made, particularly since works had to be halted earlier this year due to the pandemic. Tevir Group appreciate the vital services that the team at Hospice Isle of Man provide for our Island community and so have been delighted to support Hospice with funding for capital projects since 2016.

The current programme of works will provide a wide range of enhanced benefits for patients and their families for many years to come and will also complement the fantastic quality of care provided by the staff at Hospice."
Hospice Isle of Man remains committed to its five year strategy of working in partnership with the Island community to remain fit and sustainable for the future. The refurbishment progress can also be viewed by members of the public via several short videos explaining the changes which can be viewed on the charity's website and social media.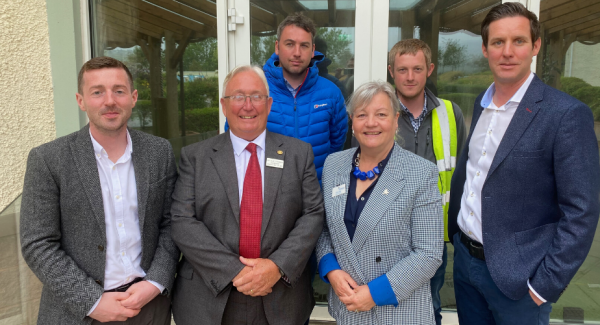 Pictured: Steven Malone, Financial Controller, Tevir Group; Alex Thomson, Hospice Isle of Man Governor; Kris Killip, Contract Manager Tooms Bros.; Anne Mills, Chief Executive Hospice Isle of Man; Richie Killip, Site Manager; and Ciaran Doherty, Managing Director, Tevir Group.
Back to News