Each year your donations and Light up a Life dedications really do help us continue making a life-changing difference to our patients and those who use our services.
This year our Light up a Life leaflet highlighted the importance of our Children's Hospice, Rebecca House with a beautifully touching story about James, who at our ceremony took great pride in flicking the switch and illuminating the lights on our tree to celebrate the lives of all those we love.
"Rebecca house have been supporting us all as a family for many years and we really would be lost without them.
Our son, James has Duchenne Muscular Dystrophy which unfortunately has no cure.
Duchenne muscular dystrophy is a muscle-wasting condition caused by the lack of a protein called dystrophin. It usually affects only boys. About 100 boys with Duchenne muscular dystrophy are born in the UK each year and there are about 2,500 boys and young men known to be living with the condition in the UK at any one time.
In the early stages, boys with Duchenne muscular dystrophy show signs of muscle weakness, such as difficulties running, jumping, climbing stairs and getting up from the floor. They will usually need a wheelchair by the age of about eight to 11 years. At first, they will probably use the wheelchair only for long distances and later they are likely to need to use the wheelchair full-time. With further progression of muscle weakness, the maintenance of good posture is increasingly difficult and complications are more likely. The condition is severe enough to shorten life-expectancy but nowadays, with high standards of medical care, most young men with Duchenne muscular dystrophy reach adulthood.
We as a family, started going to Rebecca house to familiarize ourselves with all of the future equipment that we would need to use for James at home, to demystify ourselves and to enable us not be frightened of the kit that we would need to use. This was to help us cope as things changed.
During his time at Rebecca House, James had sleepovers, he would go there after school for his dinner and for play time. This allowed the family to have some respite. Although at the time I wasn't sure that I needed it, I definitely did. When James couldn't walk anymore and his condition deteriorated even further, Rebecca House were there to support us each step of the way. At different times over the years I have also accessed psychological support from the team especially when James's condition has deteriorated drastically. The support has helped me to cope and learn to accept the difficulties of James' further reduced physical abilities. Everyone there is wonderful with their professionalism, kindness, knowledge, sense of fun and positive energy. I have learnt so many aspects of caring of all kinds, for James over the years we have been attending.
As James became a teenager and started going to secondary school, he began to pop in to Rebecca House for just a visit, rather than for a sleepover. He is growing into a young man and still has great relationships with everyone. At this point I then quickly realized the physical impact caring for James was having on me and thankfully Rebecca House have come to the rescue again to help us look after James at home, now that he is wheelchair bound."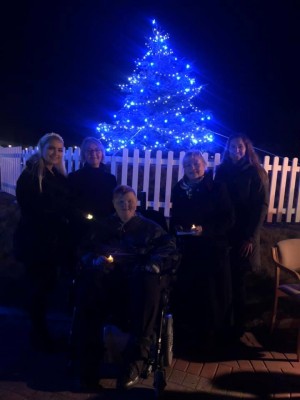 We really would be lost without Rebecca House, all the staff are worth their weight in gold. We really can't thank you all enough."
Back to News