We'd like to thank everyone for their support for our Light up a Life service for 2021. Unfortunately, we are very saddened to say that we have made the very tough decision to cancel our physical service and instead, get together 'virtually', due to the ongoing uncertainty involved in the rising COVID cases across the Island combined with the emergence of the new Omicron COVID variant.
But please know that remembering your loved ones is so very important to us and therefore we would still like us all to get together 'virtually' for Light up a Life.
Our virtual service will go live on our Facebook page, Youtube and our website www.hospice.org.im/virtual on Sunday 5th December at 5pm. During the service, we will ask you to join us in the switching on lights in an act of remembrance. Therefore, available from our Hospice building and our Hospice Shops from Thursday lunchtime will be our free Light up a Life tea lights and our badges available for you to collect (no need to register) in order for you to still remember your loved ones from the comfort of your own home on Sunday.
We hope that you feel some comfort knowing that many others will be lighting their lights of remembrance at the same time across the island. After the service please feel free to take a photo of your tea light, share it on your social media channels and tag us in it. We will be thinking of you all and wish you peace this festive season.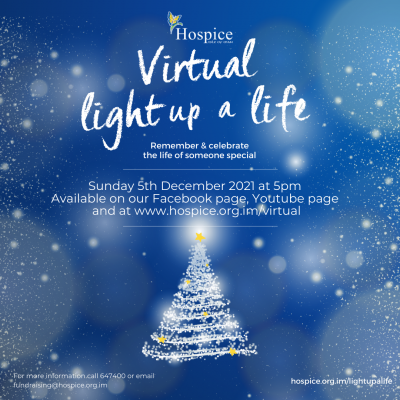 Back to News