The window in our Strand Street shop is again looking fantastic.
A few months ago we approached University College Isle of Man to explore the possibility of working in collaboration with them, to raise the importance of sustainability and clothing, to which they excitedly agreed to.
Over the coming months we will be giving a window space to each of the Art and Design UCM students who took part in this exciting collaboration - we are absolutely blown away with what they created!

Next up is Niamh Pendleton, her work is phenomenal!
Read Niamh's bios below...
"My main passion at college is fashion but more specifically the technical aspects and the presentation of my fashion products. For my FMP, I chose to work in a sustainable way, by using existing pre-loved garments to create a wrap skirt and a poncho top. Both of my garments are adjustable with multi wearable styling options. They can be worn by different body types and sizes and demonstrate diversity for the wearer.
My outfit in inspired by animals, but more specifically animal prints in general such as leopard and cheetah. I used primarily leopard print clothing to create the piece so it would match and wouldn't be too confusing to look at because a lot of animal prints tend to clash when put together and that was not the look I wanted to go for.
When planning my presentation of the outfit, my photoshoot was taken in nature with bright floral background to match with the aesthetic of the outfit. The outfit is almost camouflaged in settings the same way animals can blend into nature.
Thank you to Hospice for providing the original garments which made my project possible."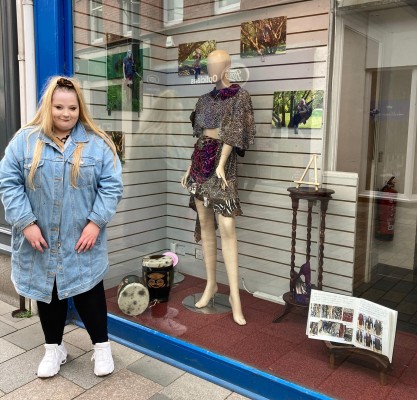 Back to News