The window in our Strand Street shop is again looking fantastic.
A few months ago we approached University College Isle of Man to explore the possibility of working in collaboration with them, to raise the importance of sustainability and clothing, to which they excitedly agreed to.
Over the coming months we will be giving a window space to each of the Art and Design UCM students who took part in this exciting collaboration - we are absolutely blown away with what they created!

Next up is Lydia Gray, who produced two pieces for the project.
Read Lydias's bios below...
RAGS TO RUNWAY
"In collaboration with Hospice IOM, our brief was to repurpose existing garments to create a new silhouette and style.
Sourced directly from the Hospice Warehouse, a wetsuit, wax rain jacket and multiple white shirts were used to create a theatrical runway outfit inspired by period TV shows and films and classic English countryside.
Details such as exposed stitches, zips, buttons, buckles and exaggerated volume and layers were used to bring a 'more is more', excessive and luxurious quality to unwanted clothing – elevating them from a discarded clothing pile to coveted runway ensemble.
The garment is not defined to a specific gender and in the studio the garment was modelled with androgynous make up and romantic styling.
Working with Hospice IOM was a defining moment during my studies as it inspired my future direction to work with textiles and fashion, but more importantly to be environmentally focused and create inclusive designs not limited to specific genders, styles or size."
REDUCE REUSE RECYCLE
"Continuing the exploration of sustainability within the textiles and fashion industry, my Final Major Project focused on the environmental effects of fast fashion.
In conjunction with Hospice IOM, I sourced waste and surplus fabrics from local Manx industries and experimented with designs to create a 'one size fits all' garment to reduce the need for multiple clothing items and give a new lease of life to materials that may have ended up in landfill.
The designs were inspired by the structure of Manx architecture and the blue, brown and grey wintery coastal scenery observed during walks in lockdown.
By using a range of zips, buttons, snap fastenings and drawstrings, the garment can be altered from trouser to skirt, loosened and tightened in order to change the silhouette, size and style to suit the wearer - the neutral colour palette and multiway styles is intended to create inclusivity regardless of gender, age, size and shape to create a universal and long-lasting garment.
The multiway sleeves were made from reclaimed plastics as an alternative recyclable fabric source. The traditional textile technique of Shibori was used to create permanent forms and structures by exposing fabrics wrapped in 3D objects to high heat.
By furthering my studies of Textile Design at University of the Arts London: Chelsea College of Arts, I hope to continue the exploration of sustainable textiles and the endless possibilities to promote positive changes in the fashion and textile industries."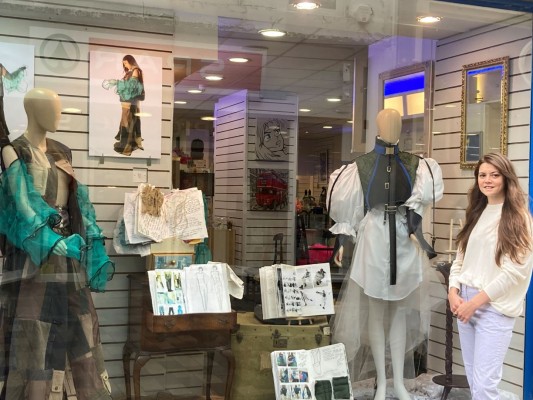 Back to News