The Trip of a lifetime
When we formed our five year strategy back in 2018, being sustainable and fit for our future was one of our five main goals. This involves ensuring that we have the financial, physical and human resources to continue to offer our services for the long-term future.

I am therefore absolutely delighted that in October I will be joining a group of dedicated supporters on an experience of a lifetime as we embark on a Himalayan Trek through the Nepalese countryside.

For a number of months we have been hard at work training and preparing for the trek, and as our challenge quickly approaches, I am filled with pride at the dedication, teamwork and compassion the group has shown throughout our journey.



This is going to be a tough challenge for all involved, but I feel confident that we have a strong group who will help each other through and I am sure that knowing we are raising much-needed funds will act as a key motivator for us all.

As well as the trek itself we will also spend two days assisting at a hospice care project in Kathmandu on a range of tasks such as painting, decorating, gardening and offering educational support about palliative care. Going through such significant changes to our own environment here at Hospice I know how important the environment is to patient experience and am so thrilled that we will be able to support another Hospice to enhance their environment in this way.

I would like to take this opportunity to thank our 12 participants for not only their enthusiasm for our adventure, but their willingness to support their local Hospice and raise awareness for our charity. Your ambition is truly inspiring, and I am delighted to be taking on this adventure with such a passionate group who I'm sure will continue on to support Hospice beyond this once in a lifetime experience.

I would also like to thank Dr Andrew Foxon of Go-Mann Adventures for supporting with all of our training needs and being a great source of advice for us all.

Finally, I would like to thank those of you have donated so far and encourage anybody who would like to lend their support to visit my JustGiving page here. I am funding the cost of the trip myself so all money raised will come directly to Hospice. In return I promise to share updates about my progress, struggles and highlights throughout the duration of the trek.


Alternatively, if Quiz Nights are more your thing, then come along and join me on 30th September at the Mint Lounge and Cafe Bar from 7.30pm.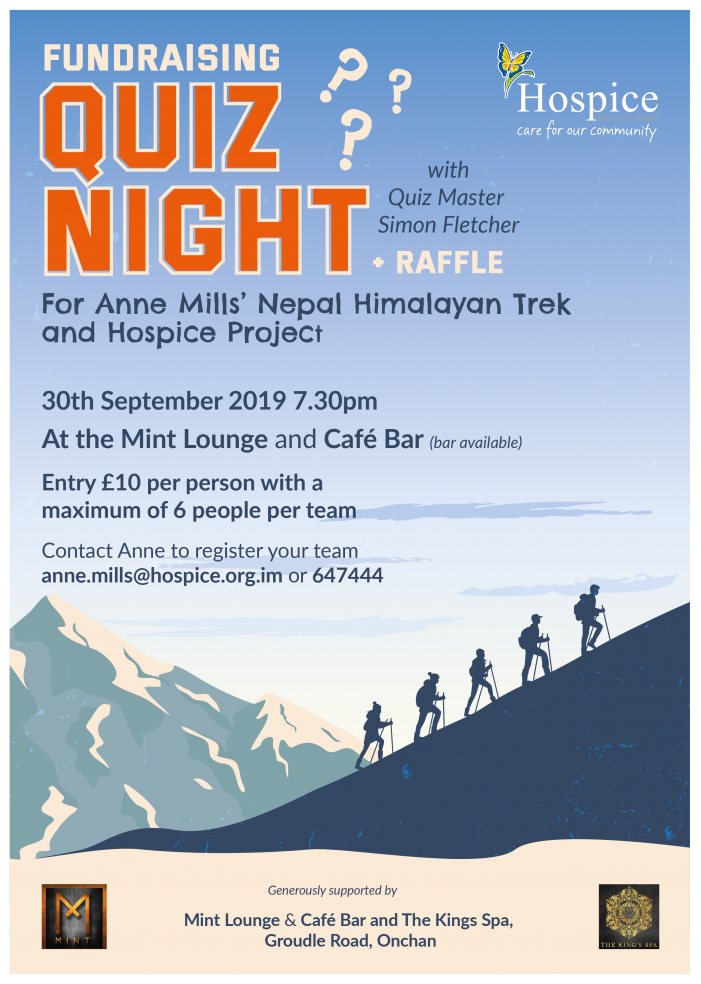 Back to News