There are 32 guaranteed monthly cash prizes and a rollover jackpot of up to £10,000 to be won in the Hospice Isle of Man Lottery. We post the winners straight to this page after the draw, which is held on the third Wednesday each month.
Congratulations to the lucky March 2023 winners
March's £1500 rollover prize was NOT won meaning April's rollover prize will be £2000!
| | | | |
| --- | --- | --- | --- |
| Amount | Name | Location | Number |
| £1000 | Mrs K | Port Erin | 1961 |
| £150 | Mr D | Douglas | 2626 |
| £25 | Mr G | Douglas | 1050 |
| £25 | Mr S | Douglas | 1172 |
| £25 | Mr Y | Ballasalla | 1460 |
| £25 | Mr R | Douglas | 2469 |
| £25 | Mrs Q | Ramsey | 2538 |
| £25 | Miss H | Castletown | 2656 |
| £25 | Mr Q | Douglas | 2838 |
| £25 | Mr D | Douglas | 3489 |
| £25 | Mrs M | Kirk Michael | 3688 |
| £25 | Ms C | Douglas | 5033 |
| £10 | Mrs C | Douglas | 1355 |
| £10 | Mr K | Onchan | 1428 |
| £10 | Mrs R | Douglas | 1512 |
| £10 | Mrs C | Ramsey | 1771 |
| £10 | Miss R | Douglas | 1785 |
| £10 | Mrs B | Baldrine | 1905 |
| £10 | Miss C | Douglas | 2087 |
| £10 | Mrs S | Ballabeg | 2137 |
| £10 | Mr L | Ramsey | 2148 |
| £10 | Mr T | Port Erin | 2696 |
| £10 | Mrs C | Port Erin | 2756 |
| £10 | Mrs K | Douglas | 4759 |
| £10 | Mrs L | Ramsey | 4868 |
| £10 | Miss R | Ramsey | 4874 |
| £10 | Mrs S | Ramsey | 5074 |
| £10 | Ms J | Colby | 5285 |
| £10 | Mrs N | Port Erin | 5297 |
| £10 | Mrs W | Douglas | 5313 |
| £10 | Mr M | Douglas | 5362 |
| £10 | Mr K | Tromode | 5649 |
Congratulations to the lucky February 2023 winners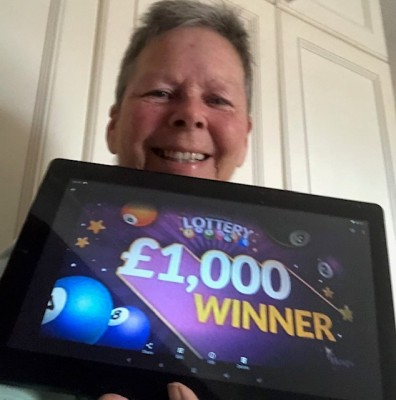 | | | | |
| --- | --- | --- | --- |
| Amount | Name | Location | Number |
| £1000 | Ms H | Ramsey | 5736 |
| £150 | Miss A | Strang | 4345 |
| £25 | Mrs H | Douglas | 2590 |
| £25 | Miss H | Castletown | 2656 |
| £25 | Ms B | Foxdale | 2729 |
| £25 | Mr H | Douglas | 2807 |
| £25 | Mr L | Douglas | 2892 |
| £25 | Mrs B | Ballastrooan | 3387 |
| £25 | Mrs M | Port Erin | 4331 |
| £25 | Mr U | Peel | 4937 |
| £25 | Mrs B | Peel | 5115 |
| £25 | Mrs C | Douglas | 5848 |
| £10 | Mr H | Douglas | 1056 |
| £10 | Mrs B | Onchan | 1128 |
| £10 | Mrs P | Douglas | 1684 |
| £10 | Ms G | Ramsey | 1935 |
| £10 | Ms B | Douglas | 1981 |
| £10 | Mrs W | Baldrine | 2301 |
| £10 | Mr M | Douglas | 2476 |
| £10 | Mrs K | Ballabeg | 2645 |
| £10 | Mrs Q | Ramsey | 2768 |
| £10 | Mr D | Port Erin | 3174 |
| £10 | Mrs C | Port Erin | 3261 |
| £10 | Mr C | Douglas | 3687 |
| £10 | Miss S | Ramsey | 4004 |
| £10 | Miss D | Ramsey | 4154 |
| £10 | Mrs M | Ramsey | 4171 |
| £10 | Mrs C | Colby | 4336 |
| £10 | Mrs K | Port Erin | 4394 |
| £10 | Mrs M | Douglas | 4580 |
| £10 | Ms A | Douglas | 5039 |
| £10 | Mrs W | Tromode | 5225 |
Congratulations to the lucky January 2023 winners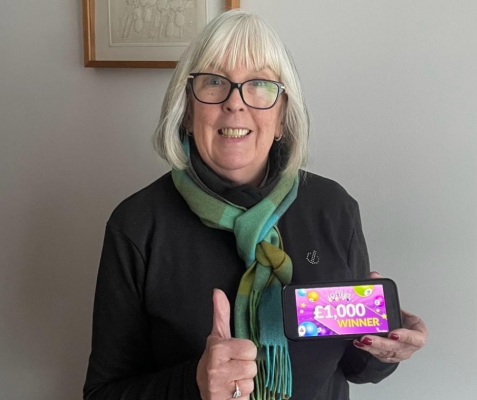 | | | | |
| --- | --- | --- | --- |
| Amount | Name | Location | Number |
| £1000 | Mrs Dee Newson | Douglas | 1329 |
| £150 | Mrs Q | Peel | 3661 |
| £25 | Miss R | Union Mills | 4174 |
| £25 | Mrs H | Tromode | 5660 |
| £25 | Mrs C | Onchan | 4498 |
| £25 | Mr W | Ballasalla | 4770 |
| £25 | Miss U | Douglas | 1993 |
| £25 | Mrs G | Mount Murray | 3177 |
| £25 | Mrs P | Santon | 2529 |
| £25 | Mr D | Tromode | 1285 |
| £25 | Mr B | Port Erin | 3603 |
| £25 | Mrs R | Douglas | 4845 |
| £10 | Mrs W | Cornaa | 5219 |
| £10 | Mr F | Colby | 1284 |
| £10 | Mrs S | Onchan | 1767 |
| £10 | Ms S | Sulby | 1364 |
| £10 | Mr L | Ramsey | 5306 |
| £10 | Mrs C | Douglas | 5409 |
| £10 | Mr G | Onchan | 1793 |
| £10 | Mrs C | Castletown | 1045 |
| £10 | Ms W | Niarbyl | 1074 |
| £10 | Mrs H | Port Erin | 3010 |
| £10 | Mrs R | Port Erin | 1512 |
| £10 | Mrs B | Ramsey | 2904 |
| £10 | Mrs J | Douglas | 1847 |
| £10 | Mr K | Douglas | 1149 |
| £10 | Mrs M | Ramsey | 5336 |
| £10 | Mr G | Santon | 1702 |
| £10 | Mr S | Ballaugh | 1035 |
| £10 | Mrs D | Ballasalla | 1221 |
| £10 | Mrs C | Strang | 1587 |
| £10 | Mr L | Ramsey | 3662 |