What is Your Hospice, Your Way?
Your Hospice, Your Way is a nine week independence and wellbeing programme, delivering hospice influenced care in a community setting. The aim is for it to be a flexible service that is tailored to suit the needs of those who need support. It will be led and delivered by a team of professionals and is continually reviewed, evaluated and improved. The programme is rolling, so after the first nine weeks, it will begin again for a new cohort. The programme is open to those living with life limiting conditions or palliative care needs, their families and carers'.
The Your Hospice, Your Way Team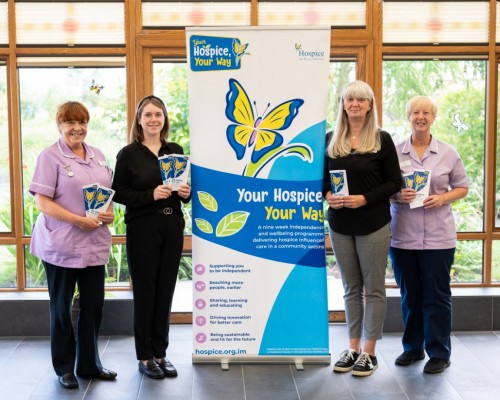 How is the programme delivered?
The programme can be delivered in a way that suits the person attending best; either in person, digitally via Zoom, social media, group work and one-to-one sessions.
Anyone interested in attending the sessions, can either come to every one across the nine weeks or they can just come to the ones that will benefit them most. The sessions can be of vital use to any person with a life limiting illness but also some of the sessions can provide support for others including informal carers and loved ones.
One of the main benefits of the programme is that no referral is necessary to attend, which means that the community can get the experience of the expert professionals at Hospice without being at Hospice themselves.
What is covered in the programme?
The nine week programme will consist of nine different sessions all addressing a different subject area including setting personal and achievable goals, physical health and pain management, staying active, functional daily living skills, making wishes and views known and heard, mental wellbeing, review of personal goals, easy digital upskilling, and friendship groups and carers.
Your Hospice, Your Way is aligned to supporting people to be more independent, ensuring that people can be reached earlier to increase awareness of Hospice-influenced care in the community. Hospice's knowledge, skills and tools will be given to those in attendance to help them manage their condition or help someone else with a condition. The programme will also be continually evaluated, reviewed and improved to ensure that people in the Isle of Man know that Hospice are here for them when they are needed most.
When & where are the next sessions?
From the week beginning Monday 20th September 2021, the Your Hospice, Your Way sessions will take place on Wednesdays 1.30pm until 4.00pm at Hospice and on Thursdays 1.30pm until 4.00pm at Thie Rosien, Port Erin. These will continue on the respective days for the next nine weeks following this.
For more information on where and when each of the programme sessions will be held, please visit our events page which contains in depth details on each of the sessions. No registration is necessary with participants able to drop in as they please.

If you would like to speak to someone regarding Your Hospice, Your Way, please contact Judith Bradford on 01624 647470 or Judith.bradford@hospice.org.im